Description
Acumar Single Digital Inclinometer
The Acumar Single Digital Inclinometer is a compact, handheld unit that features a large digital display for easy reading. Store measurements with the hold button, as well as review maximum, minimum, and average values. This full featured unit reduces examination time and enhances the objectivity of measurement and documentation. Supports range of motion evaluation as described in the AMA Guides to the Evaluation of Permanent Impairment. Inclinometer comes with built-in wireless transmitter to optional computer interface.
The Acumar Digital Inclinometer is the world's first digital inclinometer that offers easy to use wireless data. The Acumar Digital Inclinometer Suite provides accuracy, repeatability and objective documentation of range of motion measurements.
WHY ACUMAR?
A few of the benefits resulting from choosing our product for your inclinometer needs.
Measurement storage frees user from having to record measurements between readings.
Optional wireless transmission eliminates transcribing errors and saves considerable time.
Examiner is freed up to devote attention to the examination procedure resulting in a more accurate assessment in less time.
Features:
Easy to Read Digital LCD with HOLD
Large liquid crystal display readout.
Covers 360° (Displays +180° to -180°).
Measurements can be gravity or reference based.
Stores an entire series of measurements.
Stored data can be retrieved manually or sent wirelessly to a computer.
Supports the AMA Guides
Measures Joint Range of Motion, Spinal subluxation, and Cervical Flexion and Extension
Multiple Data Storage and Viewing
SAMPLE REPORTS

Example Chart of Inclinometer Results: 
Range of motion data can be documented after each examination for progressive outcome assessment. Here, the right side versus the injured left side cervical rotational ranges of motion are noted over time. The accumulation of data can be analyzed by chart (above) or graph (below) for examining the recovery process. Permanent impairment may be determined in accordance with the AMA Guides.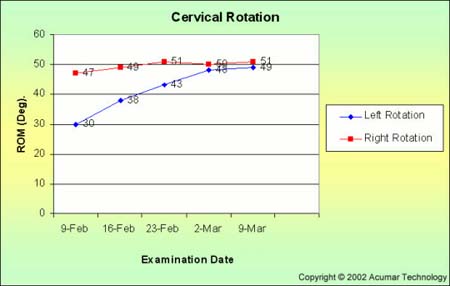 Example Graph of Inclinometer Results
Accessories Sold Separately:
Acumar Companion Unit and Connecting Cable Model ACU003.  This product allows you upgrade your Acumar Single Inclinometer to a Acumar Dual Inclinometer. Package contains Companion Unit and Connecting Cable.
Acumar Accessory Ruler Attachment Model ACU010.   Digital Inclinometer may be attached to the ruler.
Acumar Wireless Computer Interface Model ACU011.  Optional infrared wireless computer interface eases data transfer from inclinometer to a computer.